Munshi Premchand
Biography of Munshi Premchand
Munshi Premchand, a Hindustani literature (Upanyas Samrat) and Indian writer (novel writer, story writer and dramatist), was born in the year 1880 at 31st of July in the Lamhi village (near Varanasi). He is the famous writer of the early 20th century. He got died at 8th of October in 1936 by serving the people with his great writings. The birth name of him is Dhanpat Rai Srivastav and pen name is Nawab Rai. He wrote his all writings with his pen name. Finally his name becomes changed to the Munshi Premchand. His first name Munshi is an honorary prefix given by his lovers in the society because of his quality and effective writings. As a Hindi writer he wrote approximately dozen novels, 250 short stories, numerous essays and translations (he translated a number of foreign literary works into the Hindi language).
His Early Life
After his birth he had grown in the Lamhi village in a big family. He was the 4th child of his father named Ajaib Lal (a post office clerk) and his mother named Anandi Devi (a housewife from Karauni village). He was loved too much by his grandfather named Gur Sahai Lal (a patwari means the village accountant) and his own parents that's why he was named as Dhanpat Rai which means the master of wealth. He was also nicknamed by his uncle named Mahabir as a Nawab (which means Prince) which (Nawab Rai) he had chosen as the first pen name by him while writing.
He had started his early education at his 7 at a madarsa in the Lalpur village (around 2 and half km away from Lamahi) where he learned the Urdu and Persian languages by the maulvi. He lost his mother at his 8 because of the persistent illness and later his grandmother as well. He felt alone and his father got re-married with his step mother who later became his recurring theme in his works.
His Early Career
He developed a lot of interest in reading books after his mother's death that's why he did the job of book selling to a book wholesaler to get a chance to read more books. He took admission at a missionary school where he learnt English and read the George W. M. Reynolds's eight-volume named The Mysteries of the Court of London. He was in Gorakhpur when he wrote his first literary writing. He always believed to write about the social realism in his Hindi literature and discuss the status of a woman in the society.
He got enrolled at the Queen's College in the Benaras as a day scholar after the posting of his father to Jamniya in the mid-1890s. He was studying in the 9th standard when he got married at his 15 in the year 1895. The match was arranged by his maternal step-grandfather. His studies became discontinued after the death of his father in the year 1897 because of the long illness. He had started teaching tuition to the son of Banarasi advocate at 5 rupee monthly. Later he got the job of a teacher at 18 rupee monthly by the help of the missionary school headmaster in Chunar.
In the year 1900, he got the government job of an assistant teacher at the Government District School, Bahraich and started getting rupee 20/month. Around 3 years later he posted to the District School in Pratapgarh. He wrote his first short novel by the title of Asrar e Ma'abid means Devasthan Rahasya in Hindi language "The Mystery of God's Abode".
Career
Later he moved to the Allahabad from Pratapgarh for the training purpose and afterward posted to Kanpur in the year 1905 where he met with the editor of the magazine Zamana named Daya Narain Nigam where he published his several articles and stories in the later years.
Because of the quarrels of his wife and step-mother, he was unhappy. His wife had tried committed suicide as he scolded her too much and became failed. Then she gone to her father's home and never returned to him. He got married to the child widow named Shivarani Devi in the year 1906 and became the father of two sons named Sripat Rai and Amrit Rai. After his second marriage he faced several social oppositions. His wife wrote a book on him after his death named Premchand Ghar Mein means Premchand in House.
He published his first story named Duniya Ka Sabse Anmol Ratan in Zamana in the year 1907. In the same year he published his second short novel named Hamkhurma-o-Hamsavab. Another short novel is Kishna and stories are Roothi Rani, Soz-e-Watan and etc.
He was poted to Mahoba and then to Hamirpur as a Sub-deputy Inspector of Schools in the year 1909. Around 500 copies of Soz-e-Watan were burnt in a raid of British collector. Where he had to alter his name from "Nawab Rai" to "Premchand". He had started writing in Hindi from 1914. The first Hindi writing Saut was published in the Saraswati magazine in the month of December in 1915 and Sapta Saroj in the month of June in 1917.
He got promoted as an Assistant Master at the Normal High School, Gorakhpur and posted to Gorakhpur in the month of August in 1916. At the Gorakhpur, he translated many books to Hindi. His first Hindi novel named Seva Sadan (original language was Urdu by the title Bazaar-e-Husn) was published in Hindi in the year 1919. He got promoted as a Deputy Inspectors of Schools in the year 1921 after completing his BA degree from Allahabad in 1919. He decided to resign the government job after attending the meeting at Gorakhpur on 8th February 1921 where Mahatma Gandhi asked people to join non-cooperation movement.
Career in Varanasi
He went back to Varanasi after leaving his job at 18th of March in 1921 and started focusing on his literary career. During this period he suffered financial problems and poor health till his death in 1936. He became successful in establishing his own printing press and publishing house in the Varanasi named Saraswati Press in the year 1923 where he published his writings Rangabhumi, Nirmala, Pratigya, Gaban, Hans, Jagaran.
Again he relocated to Kanpur in the year 1931 as a teacher in the Marwari College. After leaving the college he came back to Benares as an editor of the Maryada magazine. Where he had published the novel named Karmabhumi in the year 1932. Shortly he served as a headmaster at Kashi Vidyapeeth and later as an editor of the Madhuri magazine at Lucknow.
His Later Life till Death
He also had tried his career in the Hindi film industry at Bombay in the year 1934 and got a job for the script writing from the Ajanta Cinetone production house. He became successful in maintaining his family financial difficulties. He wrote the film script for the Mazdoor film by Mohan Bhawnani by staying in Dadar. He played a cameo role (leader of laborers) as well in the same film. He did not like the commercial film industry environment of the Bombay and returned back to Benares after completing the one year contract.
Because of his ill health he was unable to publish his writing named Hans and handed over to the Indian Literary Counsel. In the year 1936, he was nominated as first President of Progressive Writers' Association at Lucknow. Because of the persistent illness, he died on 8th of October in the year 1936. His last and one of the premium Hindi novels is Godaan. He never moved outside the country for writing or studying purposes that's why he never became renowned among foreign literary figures. Kafan is also the best writing of him of the year 1936. His last story writing is Cricket Match which was published after his death in Zamana in the year 1937.
Munshi Premchand Stories
Some popular stories of Premchand are:
Adeeb Ki Izat
Bade Bhai Sahab
Balidan
Beti ka Dhan
Boodhi Kaki
Cricket Match
Duniya ka Sabse Anmol Ratan
Durga ka Mandir
Ghasvali
Gupt Dhan
Hinsa Parmo Dharma
Idgah
Ishwariya Nyaya
Kafan
Lottery
Mantra
Namak Ka Daroga
Nashaa
Panch Parameshvar
Pariksha
Poos ki raat
Putra Prem
Sajjanata ka dand
Saut
Shatranj ke khiladi (Hindi)
Shatranj ki bazi (Urdu)
Premchand Novels
Asrar-e-Ma'abid (Urdu)
Devasthan Rahasya (Hindi)
Prema (Hindi)
Hamkhurma-o-Ham Sawab (Urdu)
Kishna
Roothi Rani
Soz-e-Watan (collection)
Vardaan (Hindi)
Jalwa-e-Isar (Urdu)
Seva Sadan (Hindi)
Bazaar-e-Husn (Urdu)
Premashram (Hindi)
Gosha-e-Afiyat (Urdu)
Rangbhoomi (Hindi)
Chaugan-e-Hasti (Urdu)
Nirmala
Kaayakalp (Hindi)
Parda-i-Majaz (Urdu)
Pratigya (Hindi)
Bewa (Urdu)
Gaban (also transliterated as Ghaban)
Karmabhoomi (Hindi)
Maidan-e-Amal (Urdu)
Godaan
Mangalsootra (incomplete)
Premchand ki kahaniya in Hindi
कहानी
दुनिया का सबसे अनमोल रतन
सप्‍त सरोज
नवनिधि
प्रेमपूर्णिमा
प्रेम-पचीसी
प्रेम-प्रतिमा
प्रेम-द्वादशी
समरयात्रा
मानसरोवर : भाग एक व दो
कफन
प्रेमचंद की प्रमुख कहानी
पंच परमेश्‍वर
गुल्‍ली डंडा
दो बैलों की कथा
ईदगाह
बडे भाई साहब
पूस की रात
कफन
ठाकुर का कुंआ
सद्गति
बूढी काकी
तावान
विध्‍वंश
दूध का दाम
मंत्र
उपन्‍यास
असरारे मआबिद उर्फ़ देवस्थान रहस्य
हमखुर्मा व हमसवाब
सेवासदन (1918)
बाजारे-हुस्‍न (उर्दू)
प्रेमाश्रम (1921)
गोशाए-आफियत  (उर्दू)
रंगभूमि (1925)
कायाकल्‍प (1926)
निर्मला (1927)
गबन (1931)
कर्मभूमि (1932)
गोदान (1936)
मंगलसूत्र प्रेमचंद का अधूरा उपन्‍यास है।
नाटक
संग्राम (1923
कर्बला (1924)
प्रेम की वेदी (1933)
Munshi Premchand Photo and Images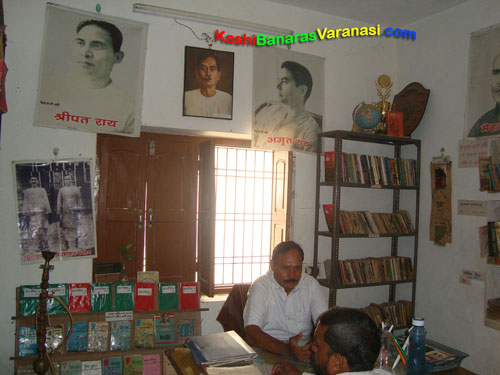 Premchand library in his birth place Lamhi Village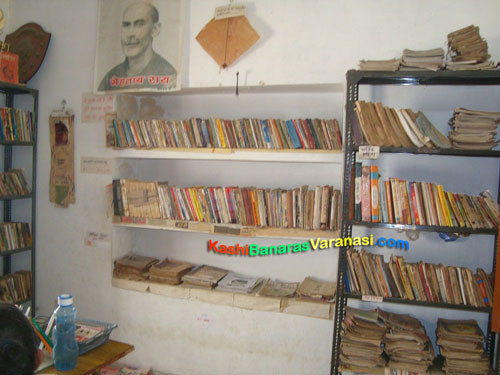 Munshi Premchand like the kite flying that is why kite is kept in his library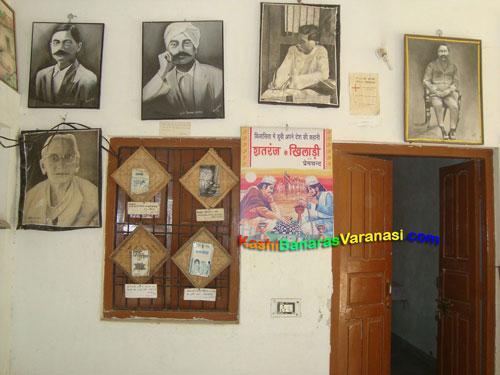 Gate of Munshi Premchand library with posters of his works
Munshi Premchand Lamhi Village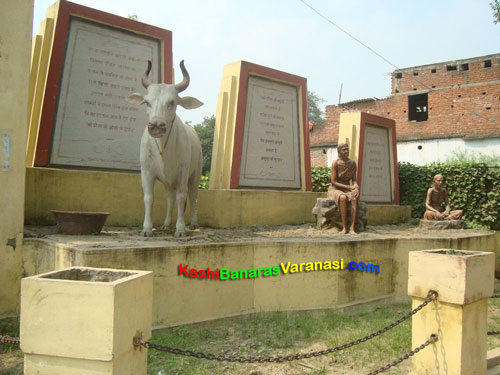 Decoration at the Gate of Lamhi Village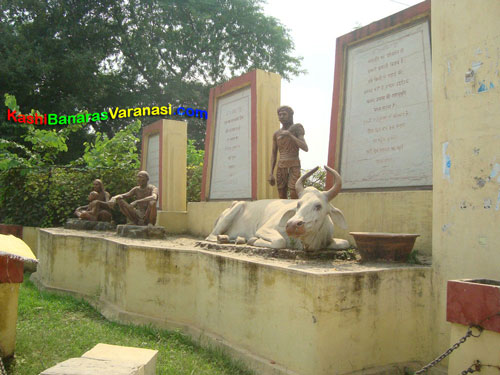 Decoration at the Gate of Lamhi Village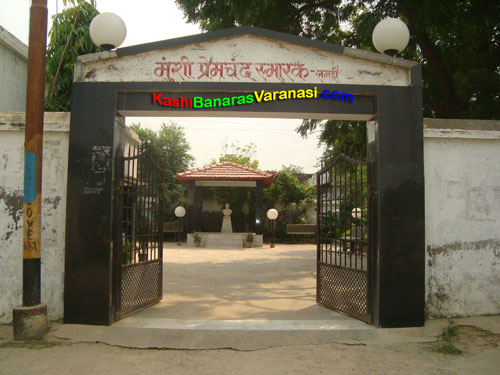 Memorial of Munshi Premchand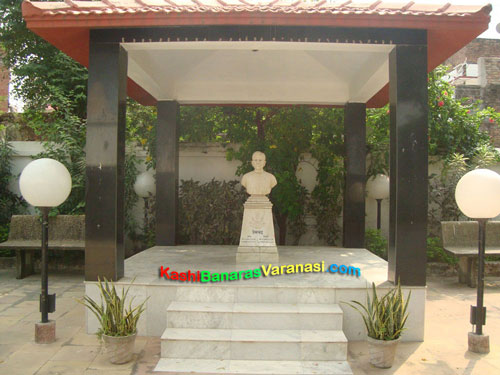 Inside view of memorial of Munshi Premchand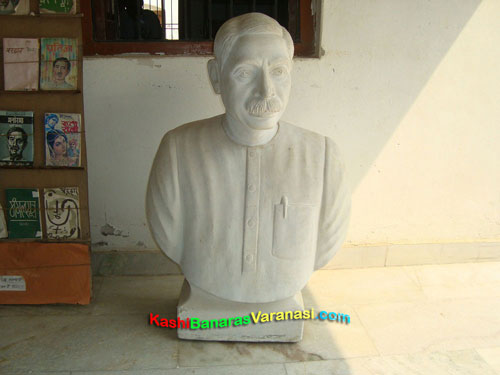 Statue of Munshi Premchand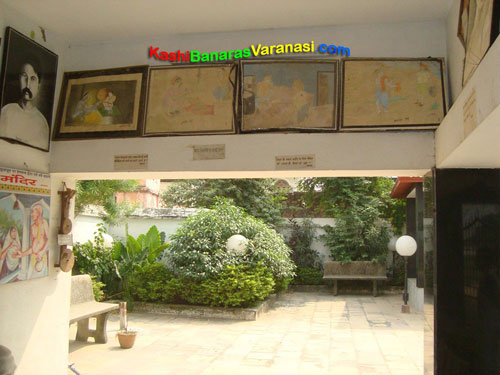 Premchand's paintings at his memorial
Premchand's novel posters at his memorial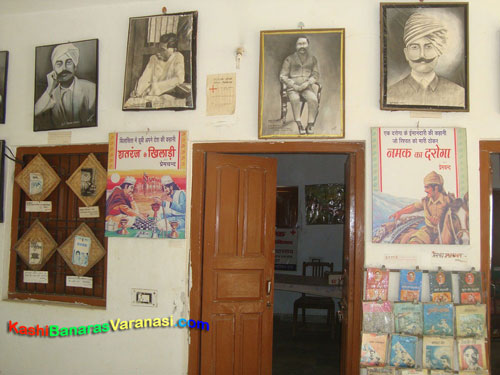 Premchand's books poster at his memorial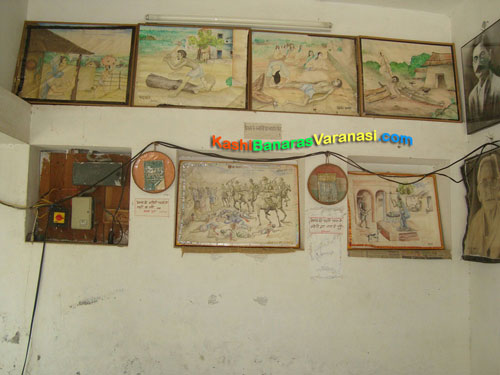 Premchand's painting shows the story of his novels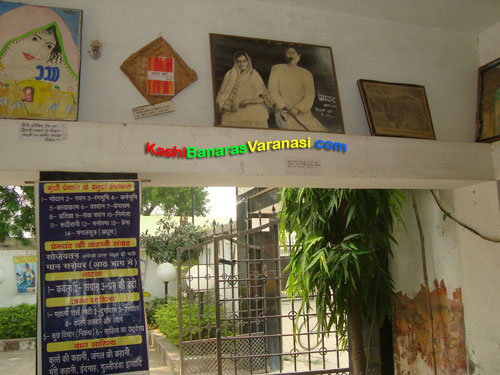 Photo of Premchand and his wife at his memorial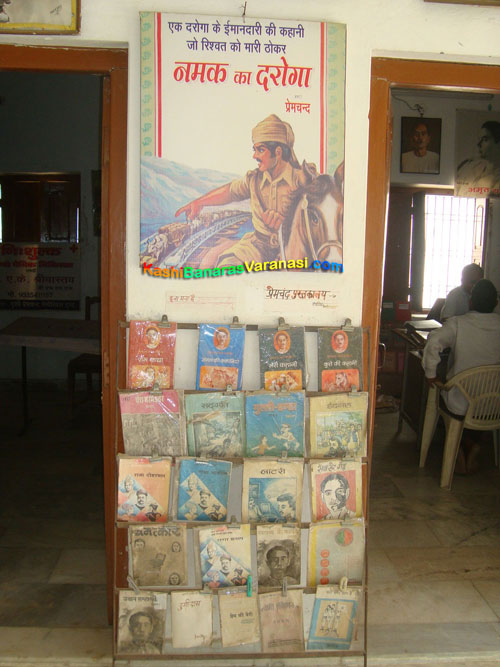 Poster of Namak ka Daroga
House build by Munshi Premchand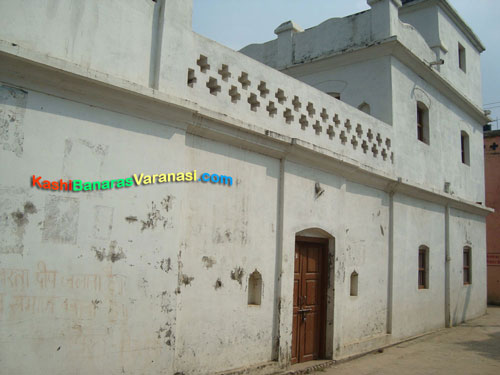 Premchand's home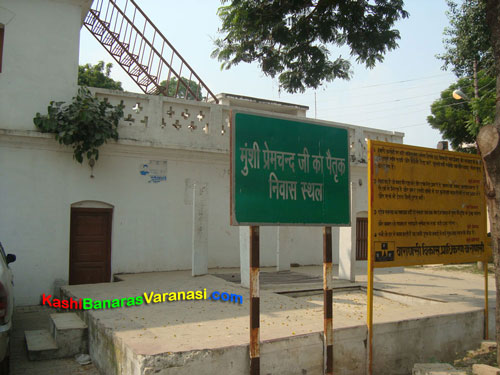 Birth place of Munshi Premchand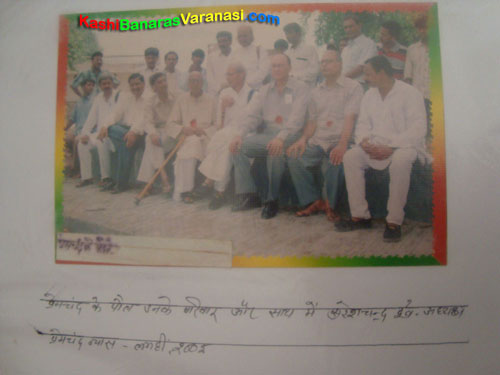 Descendants of Munshi Premchand
Scan Copy of His academic and professional documents