Varanasi is not just an ordinary city in India but it holds special significance for the Hindus from all over the world. The ancient city is a unique mix of spirituality, culture, and custom that has been part of the land for hundreds of years. A major tourist hub, Varanasi is known for its numerous ancient temples, stunning ghats, bustling streets filled with vibrant culture, rich history, spiritualism, and iconic attractions. When talking about Varanasi, no words can describe the beauty of this holy city.
Varanasi is home to some of the most ancient and revered Hindu shrines all over the India. One of these temples is the small but venerable Markandey Mahadev Temple. It stands in the heart of the Varanasi city and has served as a spiritual center for Hindus for centuries. This temple is dedicated to Lord Shiva and is known as Markandey Mahadev. A different name for this sacred site is the Mahamrityunjaya temple. Markandeya was the name of a boy born to a couple with Lord Shiva's grace. However, 'Maha' means 'Great,' and 'Deva' means 'Lord,' and is frequently used to refer to Lord Shiva. This temple is a must-see for anyone who wants to learn more about the country's spiritual history.
A Glimpse to the Markandey Mahadev Mandir
The Markandey Mahadev Mandir is a well-known Shiva shrine. Even the Shri Markandeya Purana mentions this Dham, which is the same as the Dwadash Jyotirlinga. The temple is located in Kaithi which is the sangam of the rivers Ganga and Gomti. Markandey Mahadev Temple is situated in a rural setting. Though the modernity and commercialization that is taking place around it has intruded on its calmness, it is still a peaceful and worthwhile destination.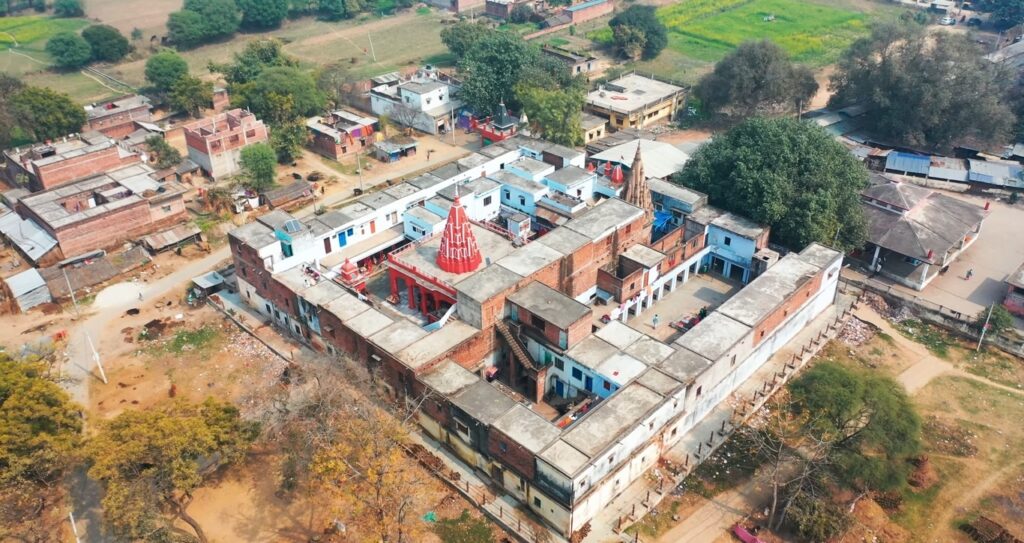 Nearby the temple, devotees can take bath in the holy river and then walk in the temple. The path towards the temple has many small shops. People can buy toys, Prasad, garland, and other worshipping items from these shops. If you are spiritual, you can concentrate here without being disturbed. People from all walks of life gather here in search of peace. Many people come this temple to celebrate their special occasion.
The Architectural Marvel of Markandey Mahadev
Markandey Mahadev is a major pilgrimage destination as well as a cultural and religious center in Varanasi. The temple is rectangular in shape and enclosed by a high wall adorned with carvings and sculptures of Hindu gods and goddesses. The exterior of the temple is composed of red sandstone and has elaborate carvings and sculptures depicting Hindu mythology. There are also other smaller shrines inside the site.
The top of the Markandeya Mahadeva Temple is covered with copper. The top has a bright glow because of the work of skilled craftspeople from Kashi who worked on it nonstop. This was made with 2000 kg of 18-gauge copper. Over the copper, a layer of solar gold is plated. This was done to give the top of the temple a shiny look.
The main sanctum, or garbhagriha of the temple holds Lord Shiva's lingam. The sanctum is surrounded by a circular path, or pradakshina path, around which devotees might walk while praying. The temple has a big area called a "mandapam" where people can sit and pray. Thousands of devotees from all across the country visit the temple to offer prayers and seek blessings from the Lord.
History of the Markandey Mahadev Temple
According to mythology, there once lived a man named Mrikandu and his wife named Marudavati. They were Lord Shiva followers. They decided to worship Lord Shiva as they do not have any child. One day Lord Shiva was pleased with their devotion and granted them a wish. Then, the couple asked Lord Shiva to get blessed with a son.
Lord Shiva said that children do not bring bliss into a marriage. But as you have revered me, you now have two choices: the average son with a long life or the brilliant son with a short life, whose age will be only 16 years. The couple prayed to Lord Shiva for a special son. Marudavati eventually gave birth to a child, whom she named "Markandeya" (meaning "son of Mrikandu"). He was special and God blessed the infant. He grew up to be highly brilliant. He was dedicated to Lord Shiva.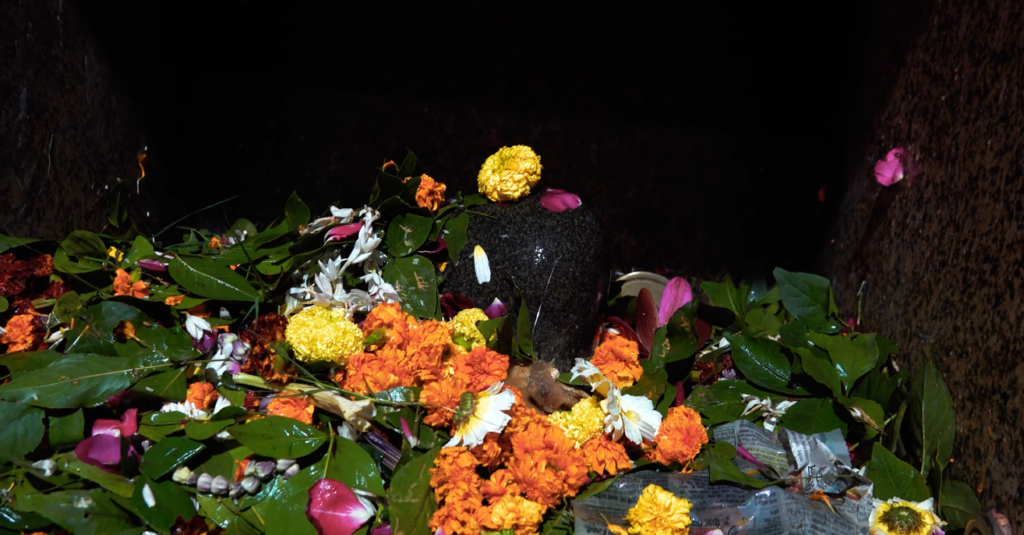 After 16 years, Yama (God of Death) arrived to Earth to take him. Markandeya was worshiping Lord Shiva at that time in a temple. When Yama requested him to accompany him, he was terrified and begged Lord Shiva to protect him. Yama threw his rope at the child, and Lord Shiva came out of the Shiva Linga. Lord Shiva was filled with anger on seeing Yama's impolite manner. Lord Shiva saved Markandeya's life and blessed him everlasting life.
The fierce form of Lord Shiva which appeared to save Markandeya is referred to as Kalashmahara Murthy. At the time, Lord Shiva informed his follower Markandeya Rishi that any devotees who come to this temple from now will be welcomed. He will bow down to you before me. This Asthadham became to be known as the Markandey Mahadev Dham.
The Spiritual Vibes of Markandey Mahadev Temple
It is widely assumed that Markandeya was Lord Shiva's avatar. He is also regarded as a sage for composing the Mahamrityunjaya Mantra. The Mahamrityunjaya mantra is the strongest mantra that is said to remove one's fear of death. Tourists and devotees come from far to this place to take part in the holy rituals and to experience the spiritual atmosphere of the temple.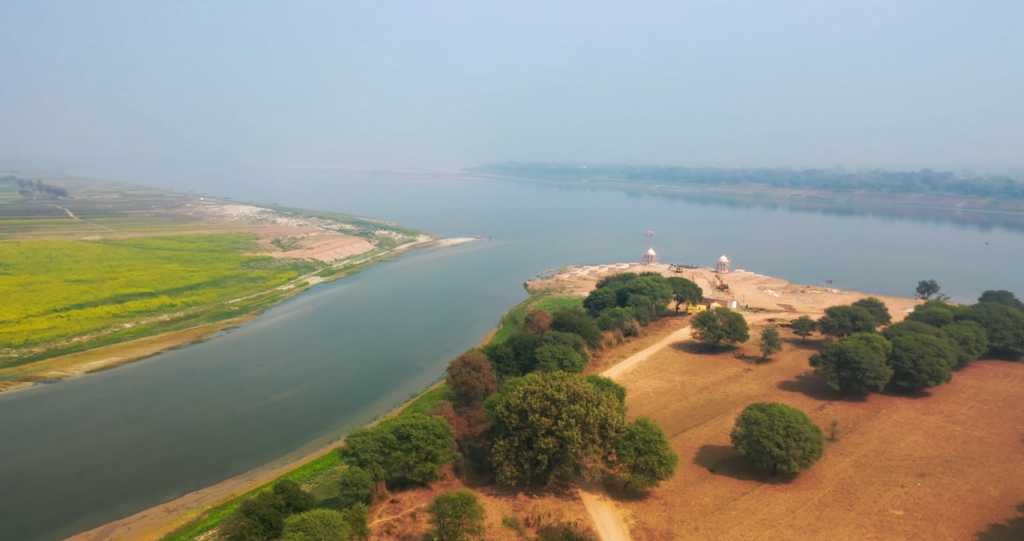 Sages like Garg, Parashar, Shringi, Udyaal, and others lived here. This is the Taposthali, where King Raghu found his successor after reading the Harivanshpuran eleven times. People think that Shringi Rishi did the Putreshti Yagya here so that King Dasharatha could have a kid. It is also beleived that if people worship Mahadev at this holy place and follow all the rules, their wish for a child will come true soon. Also, one worships Markandeya Mahadeva, will receive the gift of long life from Lord Shiva and so avoid the risk of an untimely death.
Awe-Inspiring Festivals and Rituals of Markandey Mahadev
Apart from spiritual importance, this temple is also popular for many awe-inspiring festivals throughout the year. The most important event held at the temple is Maha Shivratri. Tradition says that on this day, Shiva and Parvati got married. On this day, thousands of people visit the temple to pray to Lord Shiva and take his blessings.
Every Mondays the temple experience unusual crowd of devotees as Monday is considered the day of Lord Shiva. On Mondays, followers do a ceremony called Panchamrit Abhishek, in which they bath the lingam in a mixture of milk, curd, honey, ghee, and sugar. Rudrabhishek is a practice in Hinduism that is meant to make Lord Shiva happy and win his favor. People repeat mantras and give holy things like milk, honey, and ghee to the lingam. This very lucky ritual is done every day at the temple.
Other Hindu holidays like Navratri, Diwali, and Holi are also celebrated with great passion and energy at the temple. Special pujas and havans are held at the temple as per devotee's desire. All of the devotees love these events because it gives them a chance to see how devotion can bring peace and satisfaction.
Best Time to Visit the Temple
The temple is open all year but the winter months, from October to March, are the best time to visit the Markandey Mahadev Temple. As the weather is nice and warm it will be easy to walk and explore the temple. Temple gets open at 3:00 AM in the morning till 11:00 PM in the night. No charges are taken for entering the temple. However, before making a trip to the temple, you should check the timing because they may be different on holidays and special occasions. The temple also shows some of India's rich culture and customs. Its rich history, mythology, and building make it a must-see for anyone who wants to learn more about India's culture.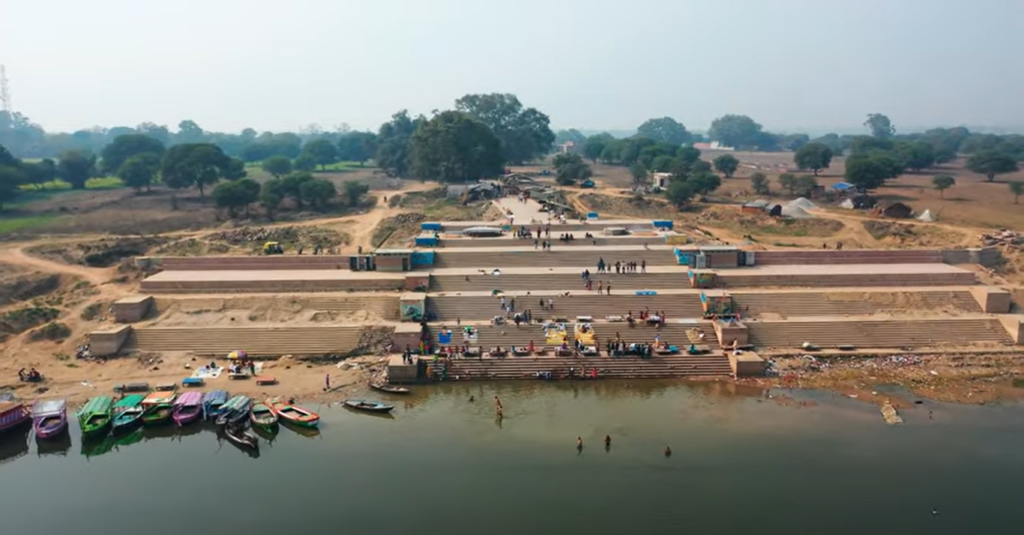 How to Reach Markandey Mahadev
Located in the heart of Varanasi, the Markandey Mahadev Temple is easy to access and open to visitors of all ages. The town of Kaithi, where this temple is located, is about 30 kilometers from the city of Varanasi in the Indian state of Uttar Pradesh. The village is visited on the way from Varanasi to Ghazipur.
By Railways: Markandey Mahadev Temple is located about 6.9 kilometers from the nearest train station, Rajawari. Aurihar Railway Station is about 11 kilometers away. However, Markandey Mahadev Temple is located at 31 kilometers from the Varanasi Junction. One must first arrive at the Railway Station and then take a bus from Varanasi to Ghazipur, which will deboard them at Kaithi.
By Airways: Approximately 47 kilometers separate the Markandey Mahadev Temple and Lal Bahadur Shastri International Airport. To get there, you can take a cab, or public transportation like buses. When you get to the temple, you can walk inside and look around on foot.
By Roadways: A network of roads connects Varanasi to other major towns in Uttar Pradesh and other parts of the country. The temple is about 30 km from the center of the city. The Varanasi-Ghazipur Highway is 28 kilometers away from Varanasi. Generally, autos, busses or taxis can be used to get here.
A New Project: Markandeya Mahadeva Temple
Markandeya Mahadeva of the Ganga-Gomti confluence will be as beautiful as Kashi Vishwanath Dham. The tourism department has made a plan for the entire structure to be built as a corridor. This plan was sent to the offices. The project will be finished in stages. It is expected to cost five crore rupees for the first phase. In this project, facilities will be built from the Sangam coast to the path leading to the temple. From Ganga-Gomti Sangam, people will also be able to get to Kaithi Ghat.
Along with improving the area around the Markandeya Mahadev Temple, attractive lights will be put up all over the building. The temple structure will look impressive. Also, the parking system will be made better. The idea to completely improve the Markandeya Mahadev temple complex in Kaithi is now being put into action.