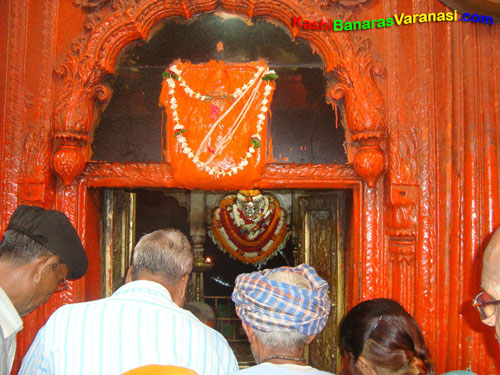 Varanasi is one of India's most spiritual and most beautiful cities. There are numerous ancient shrines and temples. The old architecture and bright colors of these temples are amazing to see. They are live reminders of how old the city is. Both people who live in Varanasi and people who come from outside find inspiration in these temples. They show off the religious and spiritual life of the city and make a beautiful background for its winding streets and busy markets.
The temples of Varanasi are a must-see, whether you just want to look at them from the outside or go inside to learn more. One of these temples is Kal Bhairav Temple. Kal Bhairav Temple is an ancient shrine dedicated to Lord Bhairav located in Varanasi, India. It is widely revered as one of the oldest temples in the city and one of the most sacred temples. It is believed to have been present since the beginning of time and is an important pilgrimage site for Hindus. The temple is a symbol of holiness and reverence for Hindus and visitors from all over the world.
Witnessing the Unique Kal Bhairav Mandir in Varanasi
Kal Bhairav Temple is a beautiful ancient temple located in the holy city of Varanasi. This temple has a deep connection to the city's history and culture. Bhairava (Kal Bhairav), a violent manifestation of Shiva, is worshiped there; he is shown with a garland of skulls and a weapon made of peacock feathers. The term "Kal" denotes both "death" and "time". Kal Bhairav is also known as the one who takes away the fear of both death and time. Some say that even death itself turns away from Kal Bhairav.
It is a popular custom to purchase sesame oil and flowers for the deity, but it is not necessary. Flowers and other products can be purchased from stores located outside the temple. In contrast to many other temples, alcohol is offered to the God.
The temple is said to have the power to cleanse one's soul and eliminate all evil forces. Kal Bhairav shields his disciples from any harm. According to popular mythology, Kal Bhairav is the city's defender. Visiting Kal Bhairav Temple is a must for all devotees and pilgrims visiting Varanasi in order to seek the blessings of Lord Bhairav and experience the spiritual atmosphere of the shrine.
Uncover the History of Kal Bhairav Temple
Kal Bhairav temple has a very long and interesting history. Folklore says that there have been numerous miracles related to the shrine. The three principal Hindu deities are Shiva, Vishnu, and Brahma. Lord Brahma and Lord Vishnu once fought about who was the most powerful of the three. All of the Vedas declared Lord Shiva to be the highest force. Lords Vishnu and Brahma both laughed at this conclusion. Shiva got angry and burst into a fierce light.
Lord Vishnu accepted, but Lord Brahma stared at the light, causing one of his heads to burn out. The light that Lord Shiva created became a being known as Kal. Lord Shiva instructed Kal Bhairav to travel to several locations, but Brahma Hatya Dosh followed him. Kal travelled around the earth holding Brahma's head in his hands.
Finally, he arrived in Kashi, also known as the world's Moksha Puri. Brahma Hatya was finally cancelled as soon as Kal Bhairav entered Kashi. When he arrived at Kashi, his head fell to the ground, and his sins were washed away. The head of Lord Brahma (carried by Kal Bhairav) fell at the site known as Kapal Mochan and the location known as the Kapal Mochan Teerth. Kal Bhairav has remained in Kashi ever since, protecting believers from their problems.
Architecture of Kal Bhairav Temple
Although the precise building date of the Kal Bhairav temple is unknown, the current structure likely dates back to the middle of the seventeenth century. According to the facts, Peshwa Baji Rao rebuilt the current temple. The temple's construction is based on tantric philosophy.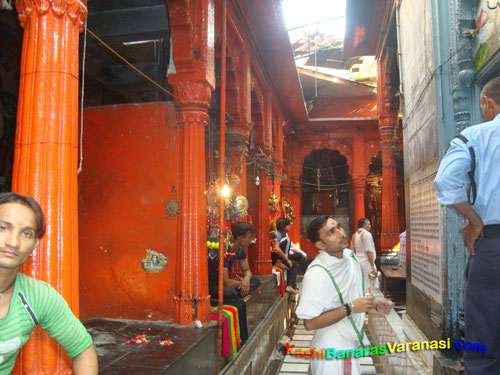 The god is visible from the entrance of the temple, which has a small entrance. In the temple's inner sanctum is an idol of Kal Bhairav with a silver face. He is sitting on the vehicle of a dog, and holding a trident. Through the doorway, guests are able to view the face of the icon that has garlands on it. A piece of cloth is used to cover the rest of the idol. Only priests are permitted to enter the inner sanctum of the temple, which has an entrance on its backside.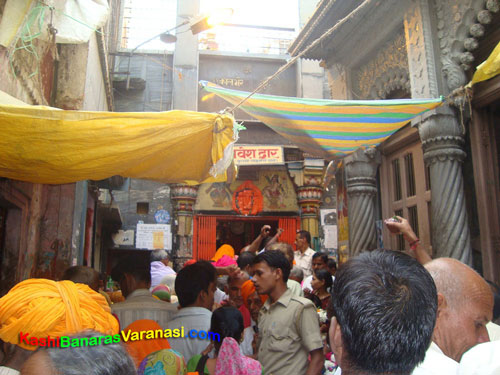 You'll see holy guys sitting with a peacock feather fan as you round the temple. They will use it to bless and wash away the sins of the travelers. On the temple's back door is an image of Kshetrapal Bhairav, which is another form of Bhairava.
Experiencing the Spirituality of Kal Bhairav Temple
The temple is of great religious importance for Hindus, as they believe it to be a place of immense spiritual power. The temple is said to have the power to cleanse one's soul and eliminate all evil forces. It is believed that worshipping Lord Bhairav can bring good luck and prosperity.
Kal Bhairav is thought to be the Kotwal (Chief Police Officer) of Kashi. Everyone who wishes to enter or exist in Kashi must seek his permission. He is also thought to be the Kotwal of "Sati pind" and no one can touch the "Sati pind" without his consent. Kal Bhairav shields his disciples from any harm. Folklore says that anyone visiting Varanasi should first visit the temple and obtain permission to enter the city.
It is also believed that Lord Vishwanath's worship is incomplete without the worship of Lord Kal Bhairav. Kal Bhairav, also known as "Kashi ka Kotwal" shields his worshippers from evil and dead. Because Lord Kal Bhairav is the Guru of all Chaya Graha, including Rahu, Ketu, Mangal, and Shani devotees who worship him are liberated from the bad effects of these Grahas and their Maha Dashas.
Festivals/ Special Occasion at Kal Bhairav Temple
Kal Bhairav Temple is renowned for its various festivals and rituals celebrated throughout the year. Other festivals celebrated here include Maha Shivratri, Kal Bhairav Jayanti, Diwali, Annakut (the fourth day after Diwali), and Holi.
According to the Hindu calendar, the birthday of Kal Bhairav is celebrated every year on the Ashtami (eighth day) of the Krishna Paksha in the month of Margsheersh (December-January). The day is celebrated grandly by lighting lamps and distributing food as 'prasad'. Kal Bhairav is usually worshiped with thousands of earthen oil lamps. The foods usually offered as 'prasad' are mustard oil, laddus made of besan, and black gram (urad ki dal). Offering liquor is also practiced as it is believed that Kal Bhairav likes it. It is also said that for success in business one should offer the deity a horse made of sugar.
Aarti Timing
The Mangala Aarti at the Kal Bhairav Temple takes place around 4:00 a.m. Only devotees doing the Abhishek Sewa are permitted admission into the Kal Bhairav Temple during this time, and the temple reopens to regular worshippers about 5:00 AM following the Mangala Aarti Sewa.
The Kaal Bhairav Temple closes at 1:30 PM in the afternoon for the Bhog Aarti Sewa. The temple opens to general devotees about 4:30 PM. The Sandhya Aarti at the Kal Bhairav Temple begins at 8:00 PM and lasts until 8:30 PM. The Sayan Aarti at the Kaal Bhairav Temple begins at 12:00 AM in the middle of the night. The shrine thereafter closes to general worshippers.
Best Time to Visit
There is no entry fee for the temple. The Kal Bhairav Temple is open to worshipers 365 days a year, with set temple hours. Sunday and Tuesday are considered crucial days for Kal Bhairav devotion. People think that worshiping Kal Bhairav brings riches, happiness, and protects them from death.
How to Reach Kal Bhairav Temple
Kal Bhairav Temple is situated in Bharonath, Vishweshwarganj, Varanasi. The temple is easily accessible by auto, rickshaw, and other means. One can reach the temple through different modes of transportation.
By Air: Lal Bhahadur Shastri International Airport in Babatpur is located 25 kilometers outside of the city core, is closest to the Kal Bhairav Temple. There are both domestic and international flights available from Babatpur Airport in Varanasi. From airport, one can book taxi or cab to reach the temple.
By Road: Varanasi is easily accessible by vehicle, cab, or bus from anywhere in India. Once in Varanasi, visitors can take an auto rickshaws or cabs to reach the temple. However, this is the most easiest and convenient way to reach there.
By Rail: Varanasi city is well linked to the other states of India via train. Varanasi junction is about 2 km from the temple. Another station is Banaras station which is about 9 km from this temple. On reaching the station, you can easily get road transport to reach Kal Bhairav Temple.
Nearby Places to Visit
Kashi Vishwanath Temple: Kashi Vishwanath Temple is a famous Hindu temple located in Varanasi. It is one of the most important religious sites in India, and is considered to be one of the twelve Jyotirlinga shrines of Shiva. It was built by the Maratha ruler, Ahilya Bai Holkar in 1780. It is located at a distance of about 1 km from Kal Bhairav Temple. You can take rickshaws or may proceed on foot.
Sankatha Temple: It will take 5 to 10 minutes to reach Sankatha temple from Kal Bhairav temple. The distance is approx 1 km between both the temples. Sankatha Temple is devoted to the Hindu deity, Sankata Devi, also known as the Goddess of Remedy. Situated at the Sankata Ghat in Varanasi, this temple gets open every day of the week. It is said to be the only temple in India that worships Sankata Devi.
Dandapani Bhairav Temple: It takes only few minutes to reach this temple from Kal Bhairav temple. Dandapani temple is an important temple in Kashi that was given its name by Lord Shiva to a Yaksha after being pleased with his devotion. The Kashi Khand states that Dandapani will remain near Lord Visweshwar and take away bad people while allowing the good ones to worship Shiva in Kashi. People who worship Dandapani in Kashi will no longer have any difficulties in life and be guaranteed to reach Mukti.
Mritunjay Mahadev Temple: Mritunjay Mahadev Temple is located less than 1 km in distance from Kal Bhairav Temple. The Mrityunjay Mahadev Temple in Varanasi is renowned for its grandeur. The ancient well located in the temple premises is seen as having spiritual significance and is thought to possess healing powers. People from all around India visit the temple to pray to Shiva, known as Mritunjay, to reduce their sufferings.
Kritivasheshwar Temple: This temple is less than half kilometer from Kal Bhairav Temple and it will take about 3-4 minutes to reach here. Krittivaseshwar Temple is one of the fourteen most important temples devoted to the god Shiva, located in Varanasi. It is situated in the Daranagar area of Kashi, between the Kashi Vishwanath Temple and the Mrityunjay Temple. According to people, a mere darshan of this temple can wash the sins of the devotees.
Dashashwamedh Ghat: Dashashwamedh Ghat is located in Varanasi in the area of Godowlia. It is located near Kashi Vishwanath Temple, just about 2 km away from Kal Bhairav Temple. It is considered to be one of the most beautiful and active ghats in the city. It is said that Lord Brahma offered a sacrifice with ten horses during a ritual here. The most noteworthy thing about the ghat is the Ganga Aarti which brings in thousands of people to see the awesome sight.