Born: 25 December 1861 in Allahabad
Died: 12 November 1946 in Varanasi
Award: Bharat Ratna in 2014
Known for: Role in Indian independence movement, President of Indian National Congress, Founder of Banaras Hindu University (BHU), One of the founders of Scouting in India, Founders of English-newspaper 'The Leader'
Profession: Educationist, Journalist, Lawyer, Politician, Freedom Activist

Pandit Madan Mohan Malaviya was born in the year 1861 and died in the 1946. He was a great Indian educationist and freedom fighter, distinguished from others for his significant role in the Indian independence and his support of Hindu nationalism. In his later life he was addressed as a Mahamana for his great workings.
He became the Indian National Congress President four times. He is remembered in the world as the founder of Asia's largest residential university at Varanasi, the Banaras Hindu University in 1916. The University has around 12,000 students all across the field such as the arts, sciences, engineering and technology. He was the Vice Chancellor of BHU from 1919 to 1938. He was also the founders of Scouting in India as well as a highly influential English newspaper, "The Leader" which was published from Allahabad in 1909.
Prime Minister of India, Dr. Manmohan Singh has announced on Dec 2011 (on his 150th birthday anniversary) that a Centre will be opened for Malviya Studies at BHU apart from the scholarships and educational awards in his memory. Pandit Madan Mohan Malaviya remained the Hindustan Times's Chairman from 1924 to 1946.
Bharat Ratna to Pandit Madan Mohan Malaviya
A freedom fighter and educationist, Pandit Madan Mohan Malaviya, has been nominated to get awarded with the highest civilian award of the India, the Bharat Ratna. It has been announced by the Indian President, Pranab Mukherjee, on 24th of December 2014 to award Bharat Ratna to the Pandit Madan Mohan Malaviya.
Madan Mohan Malaviya Biography
Early life
He was born at Allahabad, Uttar Pradesh on 25th December in the year 1861 in a Brahmin family. He was the 5th child (five brothers and two sisters) of his parent (Brijnath and Moona Devi). His great ancestors were well known for the Sanskrit scholarship called as the Malwa that's why he is also known as the Malviya.
Education
He began his education in Sanskrit at the age five and went to the Pandit Hardeva's Dharma Gyanopadesh Pathshala for completing primary education and went to another school run by the Vidha Vardini Sabha. He joined the Allahabad District School and started writing poems which were later published in the journals and magazines. In 1879, he was matriculated from the Allahabad University (Muir Central College) and completed his B.A. degree from Calcutta University. He got scholarship as his family had been facing the financial hardships.
Career
After his M.A. degree in Sanskrit, his father required him to handle the family profession of Bhagavat recital. He started his career as a teacher in Allahabad District School in 1884. In July 1887, he joined as an editor of the nationalist weekly and left his teaching job. Later, he joined the L.L.B. and after his law degree he began his law practice at the Allahabad District Court in the year of 1891 and then High Court in Dec 1893.
He became the Indian National Congress president four times in 1909, 1918, 1930 and 1932. He had started the Scouting inspired organization known as the Seva Samithi. He appeared in the court for saving 177 freedom fighters in the Chouri-choura case. He met with the Annie Besant in 1911 and determined to work on a common Hindu University at Benares. Pandit Madan Mohan Malaviya remained Imperial Legislative Council's member from 1912 to 1926 (in 1919 it was transformed into the Central Legislative Assembly).
He was selected as the Congress President when Sarojini Naidu got arrested. He joined the group Lala Lajpat Rai, Jawaharlal Nehru and many others in order to protest against the Simon Commission in 1928. He has popularized the Satyameva Jayate (Truth alone will triumph) slogan. He became the Chairman of Hindustan Times from 1924 to 1946.
Social work
He worked in society on many important fields and he tried to eradicate the caste barrier in temples and other social barriers. Because of his Social works for Dalit areas, he get expelled by the ShriGaud Brahmin. He had organized the entry of Hindu Dalit in the Kalaram Temple on the Rath Yatra day and took a dip in the Godavari River by chanting the Hindu mantras.
Legacy
At the entry gate of BHU, there is a Statue of Pandit Madan Mohan Malviya. Malviya Nagar located at different places (like Allahabad, Bhopal, Durg, Lucknow, Delhi, and Jaipur) is named after him. Malaviya National Institute of Technology of Jaipur and Madan Mohan Malaviya Engineering College in Gorakhpur is also named after him. He got married in 1878 aged sixteen years to the Kundan Devi of Mirzapur. They had five sons and five daughters (four sons of them are Ramakant, Mukund, Radhakant, Govind and two daughters of them are Rama and Malati lived).
His youngest son, Pt. Govind Malaviya was the Freedom Fighter and a Member of Parliament of India till his death in 1961. He was the only who became the Vice-Chancellor at BHU. The granddaughter in-law of him (Smt Saraswati Malviya) lives in the Allahabad with her daughters.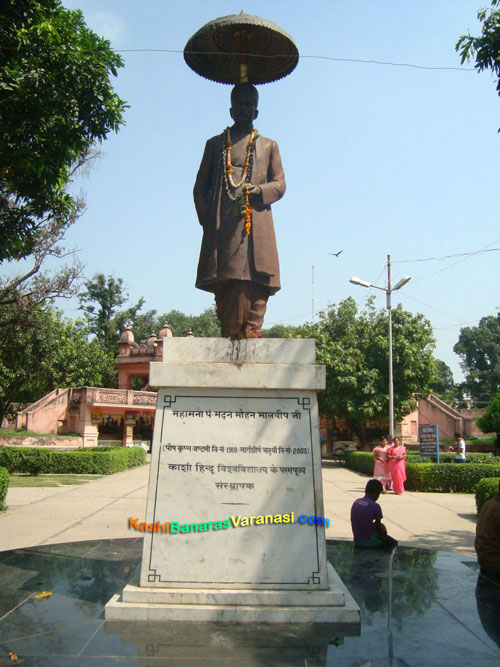 Related Information
Acharya Pandit Ramchandra Shukla