Varanasi Junction Railway Station
Station Code: BSB
Zone: Northern Railway, North Eastern Railway
Division: Lucknow (NR)
Lines:
Varanasi-Lucknow line
Varanasi-Kanpur line
Varanasi-Allahabad line
Varanasi–Rae Bareli–Lucknow line
Platforms: 9
Tracks: 13
Parking: Available
Baggage check: Not Available
Varanasi railway Junction is commonly known as Varanasi Cantt Railway Station which is one of the highest revenue generating stations in India. This station has rush of more than 1.5 lakh passengers and more than 240 trains passing through it daily. It is partly controlled by Lucknow Division of Northern Railway Zone and Varanasi Division of North Eastern Railway Zone of the Indian Railways.

The first railway line in Varanasi was opened in December in the year 1862 from Howrah on right bank of the Ganges, by the East Indian Railway Company. And in the year 1872 from Benares to Lucknow. In the late 1887, the bridge Dufferin was manufactured over the Ganges which passes the train to go to Mughalsarai.
Mughal Sarai Junction is the other major railway station about 8 km away from the city. This Junction make you available a lot of trains here, particularly to eastern India.
Manduadih is a rail terminal situated 4 km far from Varanasi Cantt Station. This station has made for passing the trains of North Eastern Railway. It comes under the administrative control of North Eastern Railway of Varanasi Division. Some other important railway stations in Varanasi are Sarnath, Bhulanpur, Shivpur, Babatpur etc.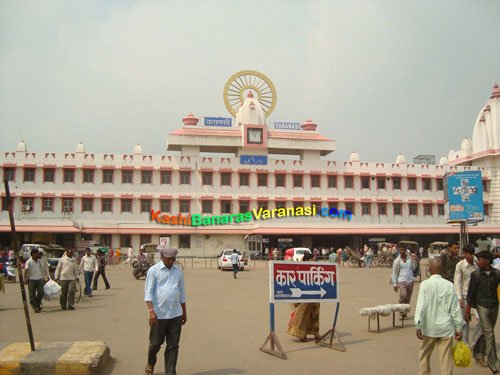 Varanasi Junction Railway Station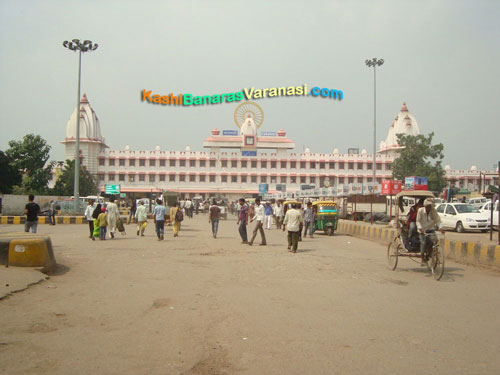 Map of Varanasi Junction Railway Station
Other Railway Stations in Varanasi
Nearby Railway Stations:
| Name | Code | Distance |
| --- | --- | --- |
| Varanasi Junction | BSB | 0 km |
| Varanesi Yard | BSBY | 1 km |
| Varanasi City | BCY | 3 km |
| Manduadih | MUV | 4 km |
| Kashi | KEI | 5 km |
| Shivpur | SOP | 6 km |
| Bhulanpur | BHLP | 6 km |
| Lohta | LOT | 6 km |
| Baba Bhagwan Ram Halt | BBRM | 7 km |
| Vyasnagar | VYN | 10 km |
| Sarnath | SRNT | 10 km |
| Hardattpur | HDT | 12 km |
| Birapatti | BRPT | 12 km |
| Block Hut B | BHBV | 15 km |
| Mughal Sarai Junction | MGS | 16 km |
| Chaukhandi | CHH | 16 km |
| New West Cabin | NEWC | 16 km |
| Raja Talab | RTB | 18 km |
| Mughal Sarai Marshalling Yard | MGMY | 19 km |
| Babatpur | BTP | 19 km |
| Kadipur | KDQ | 20 km |
| Jeonathpur | JEP | 21 km |
| Jeonathpur | VHK | 21 km |
| Flyover Cabin Mughal Sarai | FOCM | 22 km |
| Sewapuri | SWPR | 22 km |
| Baherwa Halt | BRWH | 23 km |
| Pindra Road | PDRD | 24 km |
| Ganj Khawaja | GAQ | 25 km |
| EOCM | EOCM | 25 km |
| Ahraura Road | ARW | 26 km |
| Nigatpur | NTU | 26 km |
| Rajawari | RJI | 27 km |
| Kuchman | KCA | 27 km |
| Kapseti | KEH | 28 km |
| Khalispur | KSF | 28 km |
| Kachhwa Road | KWH | 32 km |
| Trilochan Mahdo | TLMD | 33 km |
| Chandauli Majhwar | CDMR | 33 km |
| Sakaldiha | SLD | 34 km |
| Aunrihar Junction | ARJ | 35 km |
| Kailahat | KYT | 35 km |
| Parsipur | PRF | 36 km |
| Katka | KFK | 39 km |
| Saiyedpur Bhitri | SYH | 40 km |
| JalalGanj | JLL | 40 km |
| Tulsi Ashram | TLAM | 41 km |
| Saidraja | SYJ | 42 km |
| Faridaha Halt | FRDH | 43 km |
| Bhadohi | BOY | 44 km |
| Mahpur | MHO | 44 km |
| Chunar Junction | CAR | 44 km |
| Sarkoni | SIQ | 45 km |
| Dudhaunda | DDNA | 46 km |
| Madhosingh | MBS | 47 km |
| Taraon | TRN | 48 km |
| Dheena | DHA | 48 km |
| Karamnasa | KMS | 50 km |
| Ahimanpur | AHM | 51 km |
| Dagmagpur | DAP | 52 km |
| Basuchak | BSCK | 52 km |
| Zafarabad Junction | ZBD | 52 km |
| Mondh | MOF | 53 km |
| Sadat | SDT | 54 km |
| Bahora Chandil | BHCL | 55 km |
| Jaunpur Kutchary | JNUK | 55 km |
| Kajgaon Terhwan | KJTW | 56 km |
| Dobhi | DHE | 56 km |
| Dhanaichha | DCX | 56 km |
| Almaw | ALMW | 57 km |
| NandGanj | NDJ | 57 km |
| Jaunpur Junction | JNU | 58 km |
| Jaunpur City | JOP | 58 km |
| Zamania | ZNA | 60 km |
| Hurmujpur Halt | HMPR | 60 km |
| Pahara | PRE | 60 km |
| Salkhapur | SAF | 60 km |
| Suriawan | SAW | 60 km |
| Durgauti | DGO | 62 km |
| Saheri | SAHR | 63 km |
| Mahgawan Halt | MGWN | 64 km |
| Jakhanian | JKN | 64 km |
| Shudnipur | SPPR | 65 km |
| Kirakat | KCT | 65 km |
| Saktesgarh | SKGH | 65 km |
| Darauli | DRV | 67 km |
| Jhingura | JHG | 67 km |
| Sarai Jagdish | SJGH | 67 km |
| Jangiganj | JGG | 68 km |
| Bakhsha | BKSA | 69 km |
| Ankuspur | AKS | 69 km |
| Mariahu | MAY | 70 km |
| Gangauli | GNGL | 70 km |
| Sarai Kansrai | SQN | 70 km |
| Mihrawan | MIH | 70 km |
| Bhabua Road | BBU | 71 km |
| Gyanpur Road | GYN | 72 km |
| Dullahapur | DLR | 72 km |
| Warigaon Newada | WRGN | 74 km |
| Dildarnagar Junction | DLN | 74 km |
| Ghazipur City | GCT | 75 km |
Varanasi City Railway Station
Station Code: BCY
Manduadih Railway Station
Station Code: MUV
Line: Varanasi-Allahabad branch line
Division: Varanasi (NER)
Platforms: 3
Tracks: 7
Parking: Available
Baggage check: Not Available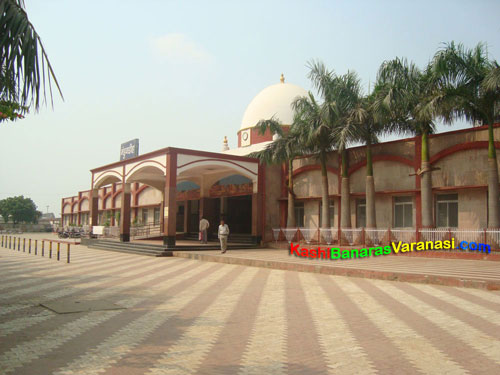 Manduadih Railway Station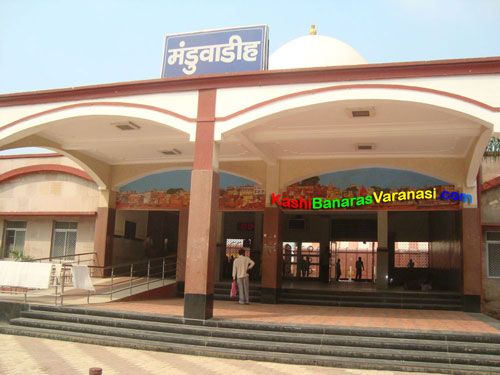 Entrance of Manduadih Railway Station
Map of Manduadih Railway Station

Bhulanpur Railway Station
Station Code: BHLP
Map of Bhulanpur Railway Station