About Diwali
Diwali is commonly known as the festival of lights. It is a traditional festival and has more importance for Hindus. It is celebrated by Hindu families together by doing some traditional activities near about mid-October or mid-November for different reasons. In Hinduism, it is celebrated as a great festival of the year at the night of the new moon of Ashwin. In Jainism, Diwali is celebrated in the mean that Mahavira got moksha or nirvana in 527 BCE.
Everybody celebrates Diwali by having row of electric lamps lighting or lighting by small clay diyas filled with oil or ghee which is the indication of victory of goodness over evil. Electric lamp lighting or ghee diya lighting or candle lighting starts during the night. Everybody wake up early in the morning and make their house cleaned and wiped in order to respect the Goddess Lakshmi to come home and feel welcome.
Fire cracking does in order to push away the evil spirits as well as sharing sweets is the sign of making new friendship with the new hopes. All the pastors dressed up in the new clothes on this day and distribute sweets, snacks to each other within family members or friends.
Diwali 2016
Diwali 2016 would be celebrated by the people all over India as well as Indian people living in abroad at Sunday, on 30th of October.
Diwali is everyone's most favorite and traditional 5 days long festival having dates accordingly:
Dhanteras (or Dhantrayodashi or Dhanvantari Trayodashi or Yama Deepam on 28th of October 2016, at Friday).
Choti Diwali (or Kali Chaudas or Hanuman Puja or Narak Chaturdashi on 29th of October 2016, at Saturday).
Main Diwali (or Lakshmi Puja or Diwali Puja on 30th of October 2016, at Sunday).
Padwa or Govardhan Puja (or Annakuta or Bali Pratipada or Gujarati New Year on 31st of October 2016, at Monday).
Bhai Duj (or Chitragupt Jayanti or Bhaiya Dooj or Bhau Beej or Yama Dwitiya on 1st of November 2016, at Tuesday).
Diwali Puja Muhurat 2016
The complete duration of Lakshmi Puja on Diwali 2015 will be for 1 hour and 28 mins. The Lakshmi and Ganesha puja would start from 6.50 pm to 8.19 pm.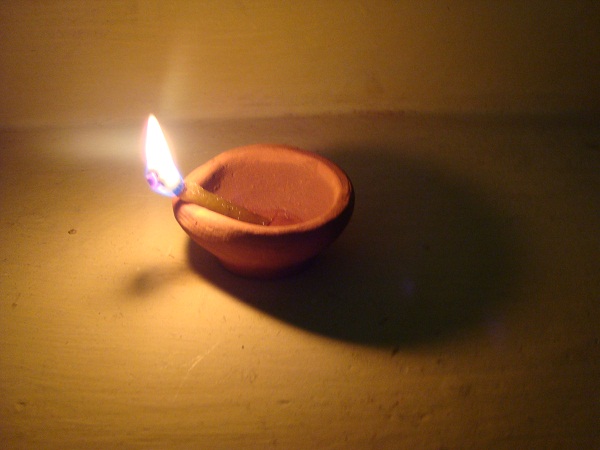 Legends of Diwali
The myth of celebrating Diwali is the return of Lord Rama along with Sita and Lakshmana to his home after 14 years of Banbas and defeating the demon king Ravana. People of Ayodhya ware very happy on returning of their king to kingdom. So, they cheerfully celebrated Diwali by decorating, lighting up their kingdom with clay diyas and bursting firecrackers.
Diwali is a 5 days long festival celebrated at 3rd day and starts with the Dhanteras which is the starting day of financial year for most business communities. The second day of this festival is the Naraka Chaturdasi which denotes the victory of Lord Krishna and his wife Satyabhama over demon Naraka. Diwali is celebrated in Benares and all over country on the Amavasya in the month of Kartik and people kindly worship Lakshmi (the goddess of wealth) for fulfilling their wishes.
It is considered that the Lord Vishnu had defeated Bali and banished him to Patal loka to control his powers at the Amavasya. On the 4th day (celebrated as Padwa) of Diwali, Bali went to patala and makes his new kingdom. Lord Krishna took his Vamana avatar and go to the King Bali in the priest form. Bali asked him what he need. Vamana said that you are the leader of Earth loka, the patal loka and sky loka. Vamana requested him to give me 3 feet space. King Bali made laugh and granted permission to Vamana to do the same. He thought that surely a small child could not cover to a large extent of ground, so he was agreed to Vamana's request.
Once the demand of Vamana was granted by Bali, the Vamana submerged the whole world (all the three loka) in his two steps. And for the third step he asked the Bali for some reputable place to this foot in order that he could be satisfied. The decent and infuriated Bali asked Vamana to place his third step foot on his head. Vamana covered third loka by putting foot on his head. According to Hindu cosmogony, Bali lies under the surface of earth.
The fifth day of Diwali is known as the Yama Dvitiya or Bhai Dooj (the day of sisters and brothers). The evening of Ammavasya becomes full of rows of light, sparkling diyas, glittering fireworks, noises of crackers, etc which represents the most joyful day for Indians. Diwali is commemorated all over the world with the immense passion and full devotion signifies the victory of goodness against evil. People of all religions celebrate it together by disregarding their differences and get together. They decorate their hut, home, or building by clay Diyas and candles. The entrance gate is garlanded with the flowers and adorned with the rangolis to greet Goddess Lakshmi.
Diwali is an auspicious festival for everybody, they make shopping, inaugurate their new homes, launch new ventures and projects. Diwali brings the variety of yummy sweets, Kheer, Barfi, Bundi Laddos, Pedas, Rasgullas, and makes our mouth watery. Even enemies meet together at this day so it is known as the people oriented festival and set up a word of closeness.
Diwali Superstitions
There are a number of superstitions correlated with the Diwali festival and followed as rituals all over the country.
Cleansing: Everybody sanitize their home on this day in the myth that when Goddess Lakshmi will arrives in their home prosperity will be there for the entire year.
Gambling: It is another custom of Diwali in the myth that prosperity will be throughout the year by playing gambling.
Chirag: Women put floating Chirag in the Ganges water which is a sign of good luck.
Visiting Temples: Especially businessmen visit their local temples and pray to God for good luck and fortune for a whole year.
Driving out Alakshmi: Old woman of the house drive out Alaksmi in the early morning of Diwali. It is considered that Alaksmi is the goddess of misfortune, paucity and calamity, so they driven out her from home.
History and Origin of Diwali
Hindu Purana tells the deep history of Deepawali. According to the Hindu Purana, when evil power increases in this world, Lord Vishnu come up to the earth in a special form to conquer the evil power. In this order Vishnu had taken the Krishna and Rama Avatars.
The Story of Rama and Sita:
Rama avatar is the seventh avatar of Lord Vishnu. Rama was a great warrior emperor who had taken Banbas along with the Sita and Lakshman because of his father Dashratha and mother Kakayee. Lord Rama had returned after 14 years to his Kingdom Ayodhya after defeating demon Ravana. Ayodhya people greeted him by lighting lamps and happiness.
The Story of Krishna and the Mountain
Lord Krishna convinced the public of Gokula to worship the Govardhan Mountain rather than God Indra. Indra got angered and sought revenge. He sent a lot of thunder and heavy rain on the earth of Gokula. Then Lord Krishna had saved the life of people by lifting Govardhan Mountain on his little finger. The people gathered under it awaiting the storm passed away. The myth of offering food to God on Diwali is giving importance to God and being thankful for his bounty nature.
Story of Swami Dayananda Saraswati
Story of Swami Dayananda Saraswati is associated with Diwali history which says that he was one of the first person to light the torch for Hindu rebirth in the last century, had passed into perpetuity on this day.
Story of Goddess Lakshmi
It is considered that Goddess Lakshmi was born from the ocean when churning of the ocean was going on by demons and deities for finding out the drink of immortality, called Amrit. Thus, the Diwali festival is celebrated to memorialize the origin of the Goddess Lakshmi. People do Lakshmi Puja on Diwali to drive out darkness of evil spirits and get plenty of blessings and prosperity. Everybody prepares their puja thali after the sun set to offer the Goddess Lakshmi homemade sweets, ghee diya, agarbati, kapoor, and after puja they distribute prasad to each other. They exchange gift to each other on this day and all men, women and children go to the temple in well dress, go to fairs, visit friends as well as relatives.
At this event, cattle are also ornamented and worshipped by villagers as they are good source of income. Cows are specially worshiped and adorned at this day because they are believed to be the embodiment of Goddess Lakshmi. In Bengal, Diwali festival is celebrated by worshiping Goddess Kali, the fearful and violent appearance of Durga.
Return of the Pandavas at this day
According to the Mahabharata, Diwali is considered as it had started when Pandavas returned to home at Kartik Amavashya. They returned to home at Kartik Amavashya after a long period of their 12 years of exile because of their defeat from Kauravas in the gambling. People who loved Pandavas had celebrated this day by lighting a lot of lamps.
Lord Ganesha
Lord Ganesha is also worshiped together with the Goddess Lakshmi. People pray to God Ganesha for their good luck and wisdom. Lord Ganesha is a son of Lord Shiva and Mata Parvati. Lord Ganesha is the Lord of victory and demolisher of evils powers. His worship is overvalued as the Panchayatana puja as he is one of the five Hindu deities.
Diwali Decorations
People adorn their home with flowers, roli, rangoli, Goddess foot prints, hanging bells, door hangings and give their home a cultural and graceful look. Well painted or decked clay Diyas add a festive essence to the rooms. Decorative things can be located in the courtyards, balconies or ridges. Brass idol of Lakshmi and Ganesha sited at the corner of room to give an entire look. They decorate their gate way with the beautiful rangolis to attract neighbors and relatives. Kalash and exclusive pots are also placed in the middle of courtyard.
Red and yellow color bandhanwar is a famous and traditional door hanging which is hung at the gateway of home in the belief that it will drive away the evil power from entering into home.
Flowers for Diwali Decoration
Flowers are integral part and play a great role in decorating Diwali festival. Flowers are used to make rangoli in the courtyard or gateway. Also used for God worship and giving gift of flower bouquet to friend, relatives, neighbors. Online florists offer attractive flower packing for gift, worship as well as decoration purposes. A bouquet of fresh flowers can be placed in the room for more attractiveness.
Diwali Gift Ideas
Gift are given to each other to increase the happiness levels of your loved ones and indicate your love and respect to them. A variety of Diwali gift are available in the market such as silver coins, idols, dry fruits, sweets, candle stands, furnishing items, accessories, lamps, bed sheets, pillow covers, wall hangings, table sets, carpets, flowerpots, chocolates, apparels, puja thali, kalash and many more. There are different types of diyas in the market such as red diya, swastika diyas, terracotta diyas, makhhan diyas, wax diyas, ethnic diyas, and etc.
Diwali Crackers and Fireworks
Diwali is a festival of lights, sounds, worship and sharing gifts. A variety of crackers with safety purposes are available to enjoy the Diwali dark night. Children, young and old all enjoys Diwali fireworks and crackers. It is always advisable for people specially children to use crackers with safety.
Diwali Customs and Traditions
Gambling is the great custom at Diwali. According to mythology, Goddess Parvati had fun while playing dice with the Lord Shiva on this day. Playing gamble and win at Diwali night is a sign of remaining prosperous whole year.
Celebration of Main Diwali
It is celebrated on the dark moon night in the month of October or November by the Indian people. They decorate their home with the candles, diyas and rangolis. They go to their local temples and offer ghee diya to the Goddess Lakshmi to get the blessings of wealth and richness. The main Diwali evening is truly exciting and fascinating moment for everyone. People use a lot of crackers and fireworks to entertain and celebrate Diwali. They spend too much money on their purchasing activities. They wear new clothes, share gifts, sweets and offer greetings to each other.
Lakshmi and Ganesh Puja
Lakshmi Puja is held out on the main Diwali together with the Lord Ganesha. Lord Ganesha is worshiped as a Vighnaharta of all the vighna of the people. People offer Goddess Lakshmi the red flower, ghee diya, kapoor and do puja with the mantra and arti.
Traditions of Main Diwali
It is considered that a morning bath is very crucial on Diwali. People in Benares take bath before sunrise and do their each and every work in proper manner and timely. There is myth that the routine of Diwali will ensure the whole year routine.