St. John's School
ST Johns School Varanasi
St. John's School is a private school located in the Varanasi, India associated to the committee for the CISCE, New Delhi. St. John's School was started in 1964. Around 8,400 students are enrolled at St. John's School and getting quality education.
St. John's School is managed by the Roman Catholic Diocese (a registered charitable society) of the Benares. This school is completely under the religious authority of the Catholic Bishop of Varanasi.
Branches of the St. John's School in Varanasi are:
St. John's School DLW
St. John's School Ledupur
St. John's School Marhauli
The purpose of the school is to improve the quality and levels of education as well as expand its services to the other community members to the extent possible. The medium of communication, instruction and examination of the school is English.
Students prepare themselves for the 10 year course I.C.S.E. and 12 year course I.S.C. The syllabus of these Council exams includes English, Hindi, Sanskrit, History, Civics, Geography, Chemistry, Mathematics, Biology, Physics, Economics, Accountancy, Commerce, and Computer Studies.
A variety of quiz and competitions such as games, sports, physical exercises, dramatics, debates, social work, extramural lectures by professionals, general knowledge quiz are held half yearly or annually in order to keep the students up to date. In order to encourage unity and co-operation among students, school conducts picnic or tour.
Four houses of four colors (Red, Blue, Green and Yellow) are available in the school. Each one has particular importance at the time of admission. Each one is headed by House Captain (one boy and one girl). For different co-curricular activities, games and sports, students are awarded with the best House Trophy through the year.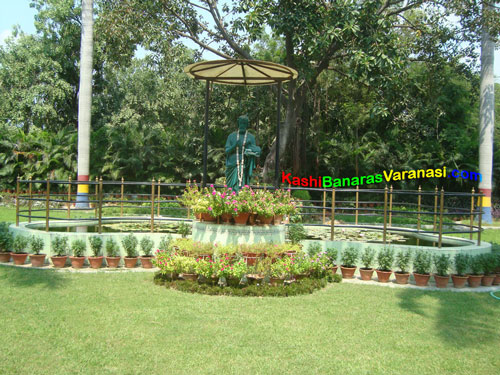 Statue in front of main gate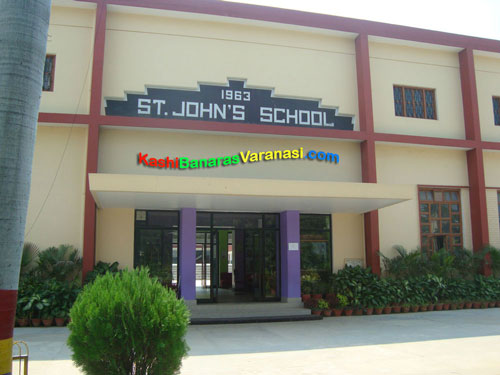 Main Gate of T Johns School
Play ground
Location Map of St. John's School D.L.W, Varanasi

Location Map of St. John's School, Marhauli, Varanasi
Related Information